SoCe and Relyum have recently joined the CLPA (CC-Link Partner Association) in order to validate our TSN related solutions with the latest CC-LinkIE TSN specifications!
"CC-LinkIE TSN is the first open industrial Ethernet to combine gigabit bandwidth with Time-Sensitive Networking (TSN). This will provide the foundation of the converged network architecture necessary to address the challenges of Industry 4.0."
---
Use Cases
One of the most common use case for this kind of technology woul be smart factories, integrating IT system information communication and other open protocols on the same network while running real time control (as shown in the image below).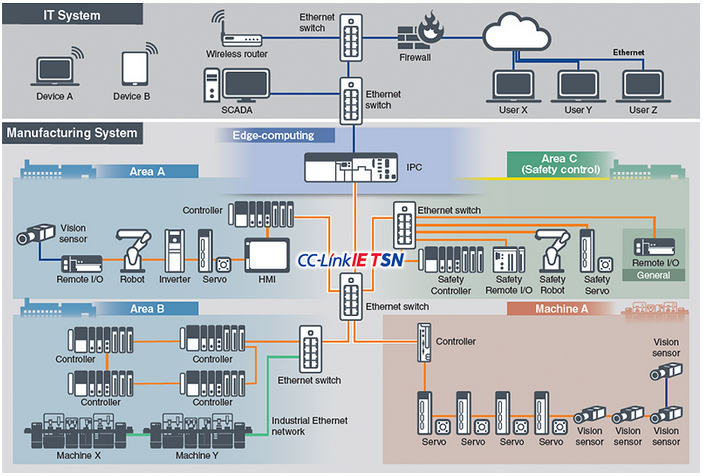 The CC-Link Partner Association (based in Nagoya Japan), the organization promoting the Ethernet–based integrated network CC-Link IE, has announced the completion of the specification for "CC-Link IE TSN" –a next generation network based on the current CC-Link IE. CC-Link IE TSN was developed to meet future market demands and has added Time Sensitive Networking (TSN) technology, which are additional standards related to IEEE Ethernet, to integrate Operational Technology (OT) and IT while further strengthening performance and functionality. Also, with the diversification of development methods, it has enabled flexible implementation for various types of equipment and also achieved mixed usage of information communications by utilizing Internet Protocol (IP) and control communication technology. It is expected that these will improve efficiency and reduce time for the construction of smart factories utilizing the IIoT. More details of the CC-Link IE TSN specification will be published on the CLPA Members Site.
---
System-on-Chip engineering (SoCe) is a worldwide leading supplier of time-aware Ethernet networking solutions. SoCe is pioneer in developing a portfolio of IP cores and rugged platforms that implement these technologies for critical systems.
For more information, please contact us at: info@soc-e.com
Every image in this post were taken from the CC-Link IE TSN webpage (https://www.cc-link.org/en/cclink/cclinkie/cclinkie_tsn.html).