SoC-e has reached an agreement with SystemCORP, a market leaders in IEC 61850 Software stacks, in terms of integrating its solution into SoC-e HSR/PRP/PTP/GbE Reference Designs.
With over 2 decades experience, SystemCORP Embedded Technology offers leading edge and reliable Smart Grid communication products and engineering solutions to the electrical utility industry. They offer a large selection of Communication Software for the electrical utility industry, including IEC 61850, IEC 60870-5-101/103/104, used in the emerging Smart Grid sector. Systemcorp configuration tools are tailored for IEC 61850, and its dedicated engineering staff have built a valuable knowledge based on IEC 61850 and Smart Grid technology.
The newest IEC 61850 enhanced Reference Design is based on SoC-e's SMARTzynq field-proven module. As this module is based on Xilinx Zynq SoC, the SystemCORP stack runs over Linux on PS part (two ARM processors available), while the PL part (FPGA) is ready for targeting other SAS required specific switching and communication solutions, such as HSR/PRP high availability protocol, IEEE 1588 synchronization protocol, customized packet switching and Digital Signal Processing provided by SoC-e.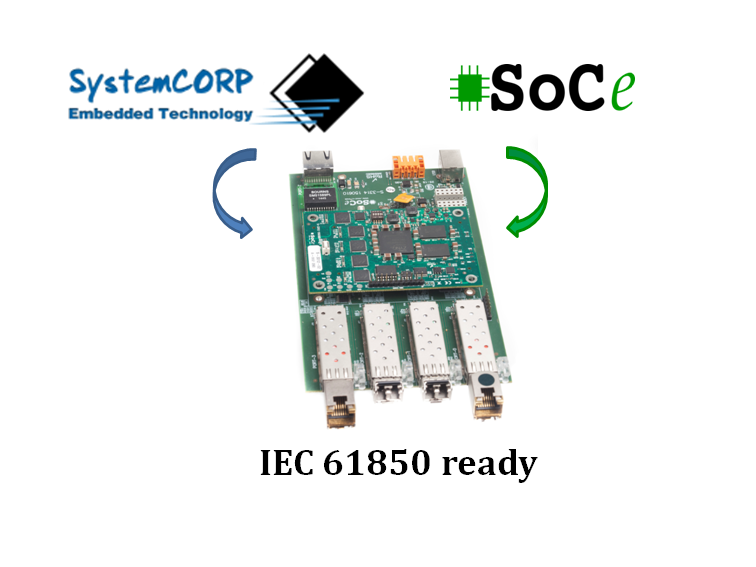 If you are interested in having access to this innovative Reference Design focused on the new generation SAS-Substation Automation System- equipment, do not hesitate to contact us at: info@soc-e.com