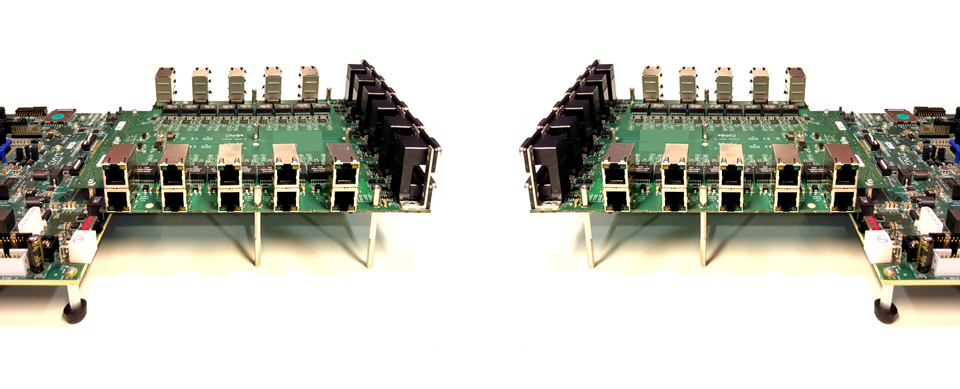 Multiport Time Sensitive Networking (MTSN) Switch IP is SoC-e solution to include Time-Sensitive Networking capability in their equipment. This VHDL IP can be implemented on reconfigurable devices (FPGAs and Reconfigurable SoCs) and other Silicon solutions.
MTSN Switch IP can be implemented optimally depending on the application. It can be configured to generate from a simple TSN capable port to a complex fully-featured multiport switch. The designer can select, among other parameters, the number of ports , the TSN features supported and the memory distribution for the switch implemented on the silicon. In case of using Xilinx FPGAs, this entire configuration is done graphically using Xilinx Vivado Tool.
MTSN Switch IP can be evaluated using this 12x Port MTSN Kit or the basic MTSN Kit. This kit has been designed not only to test the MTSN Switch IP, but to support an advanced hands-on TSN as well. It is composed by two boards ready to run a TSN Network setup.
12x Port MTSN Kit is composed of 2x Xilinx ZCU102 carrier boards, 2x SoC-e Multiport FMC cards and one Traffic Generator board. The Kit includes a reference design and software that allows evaluating SoC-e TSN technology and develop custom TSN implementations by the user. The evaluation software includes a demonstration based on video streams focused on experimenting the following TSN features:
Synchronization Layer
Traffic Shaping
Traffic Scheduling
Redundancy at Stream Level
In addition to the demonstration software included in the Kit, a GUI Configuration tool is embedded in both boards.  Thanks to this GUI, the user can easily modify all the parameters related to the switching and TSN operation. Therefore, both subsystems are fully operational TSN switches that can be used as a stand-alone devices in the network.
The support for the standardized TSN configuration mechanisms widely used (IEEE 802.1Qcc, NETCONF/YANG) is also included with the system. This means that these devices can be automatically configured statically or dynamically by the CNC agents supporting the standards.
The specific TSN protocols supported by current version of SoC-e MTSN Switch IP are summarized at MTSN Switch IP Web site.
Following block diagram details the internal design within the Reconfigurable MPSoCs included in each carrier:
Block diagram of the 12+1 port implementation of MTSN Swich IP core preloaded in each ZCU102 carrier board
12x Port MTSN Kit – Order Information
This kit can be ordered to SoC-e using the form available in this page.
This Kit includes:
2x SoC-e 100M/1GbE Multiport FMC boards
2x ZCU102 boards pre-loaded with 12+1 Port TSN Evaluation Design
1x Traffic Generator board
2x ZCU102 power supplies
1x Traffic Generator power supply
2x Tri-speed Ethernet Copper SFPs
1x Traffic Generator USB cable
GUI Configuration software (TSN and other switching features)
Video stream based demonstration software
User Guide
Additional ZCU102 cables
For more information, please contact us at: info@soc-e.com