Multiport Time Sensitive Networking (MTSN) Switch IP is SoC-e solution for any customer that requires an all-in-one solution to introduce Time Sensitive Networking in their equipment.
MTSN Switch IP can be implemented optimally depending on the application. It can be configured to generate from  a simple 2-ports TSN adaptor to a complex multiport switch. The designer can select, among other parameters, the number of ports and memory distribution for the switch implemented in the FPGA section. This entire configuration is done graphically using Xilinx Vivado Tool.
MTSN Switch IP can be evaluated using this  MTSN Kit. This kit has been designed not only to test the MTSN Switch IP, but to support an advanced hands-on TSN as well. It is composed by two boards ready to run a TSN Network setup.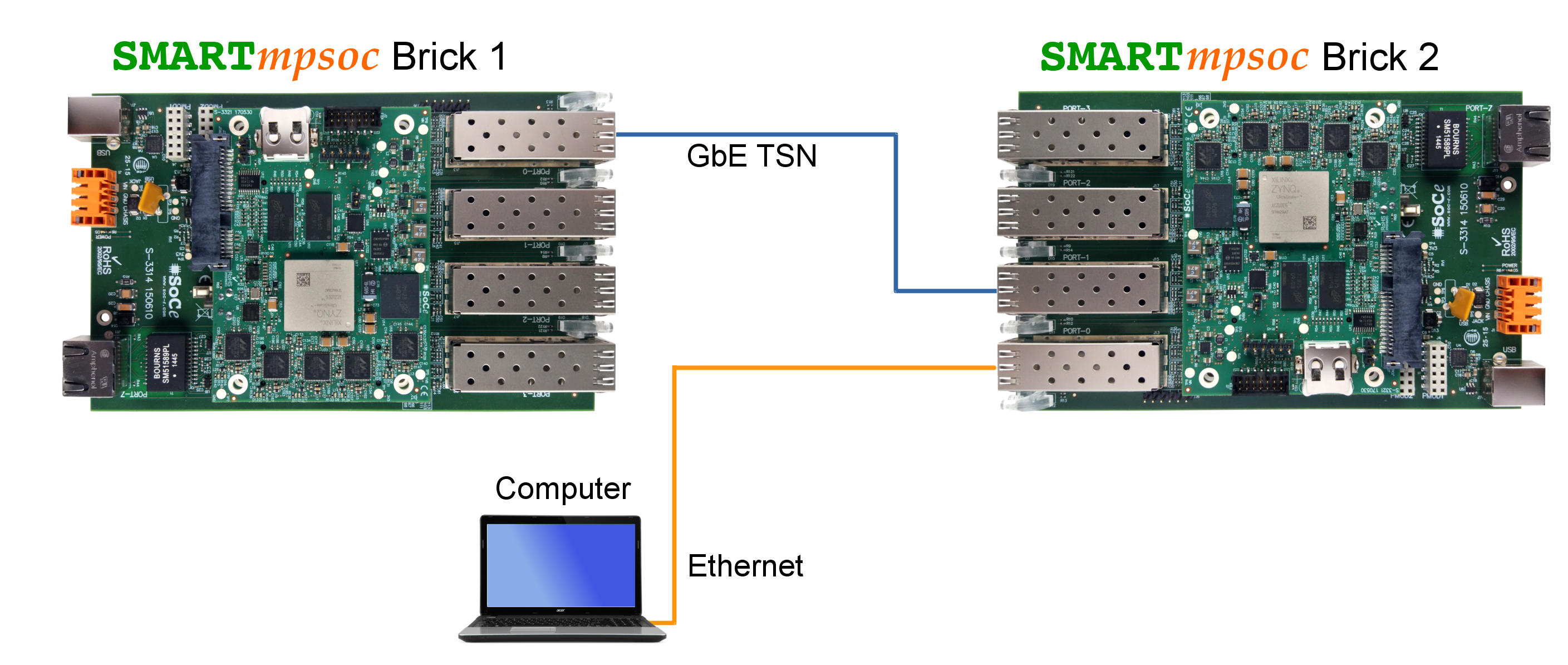 There are two version of the Kit available, one based on Xilinx Zynq Ultrascale+ MPSoC and another one based on Zynq-7000 SoC (PCIe NIC version).
The block diagram of the design implemented on MTSN Kit (MPSoC version) is shown in the following Figure:
The main elements included in this design are:
PS Section: Processing System section of the SoC.
PL Section: Programmable Logic section of the SoC.
TSN Traffic Generator: HDL Block able to generate different class Ethernet Traffic with controlled throughput. Additionally, it integrates a Time Aware Shaper for  scheduling the conventional Ethernet traffic generated by the traffic generator block.
TSN Adapter: HDL Block in charge of implementing the Time Aware Shaper for scheduling the conventional Ethernet traffic managed by the standard regular Ethernet MAC of the Processor Section of the SoC.
MTSN Switch IP: Six-ports TSN switch. These ports are distributed as two internal and four external ports.
The demo included in the kit is divided in several Test in order to test the effect of enabling and disabling TSN features (synchronization, shapers, etc.). The parameters of the switch for each configuration are visible and editable through a regular Web Browser. The following screenshot shows and example of this interfaces:
MTSN Kit Configuration Parameters
MTSN Kit – Order Information-
This kit can be ordered to SoC-e using the form available un this page.
MTSN Kit (MPSoC version):
This Kit includes:
2x

SMART

mpsoc boards pre-loaded with TSN Evaluation Design
1x

SMART

zynq board pre-loaded with Traffic Generator tool.

3x Power Supplies

8x Tri-speed Ethernet Copper SFPs

2x USB cables
MTSN Kit (PCIe NIC version): https://www.relyum.com/web/rely-tsn-kit/