Recently, researchers from the University of Catania, have presented SPHERE, a project aimed at the realization of an integrated framework to abstract the hardware complexity of interconnected, modern system-on-chips (SoC).
The architecture shown in the image is for the case of two SoCs, which communicate by means of a Time-Sensitive Networking (TSN)-enabled IEEE 802.1Q switch deployed on the FPGA fabric of each SoC.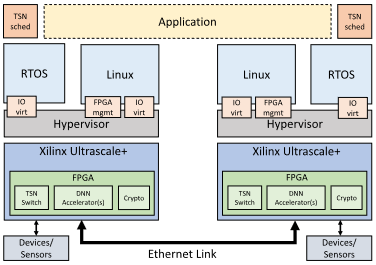 To implement TSN protocols on a programmable SoC, they have chosen our Multiport–TSN Switch (MTSN) IP, an all-in-one solution that can be adapted and optimized depending on the application, from a simple two-port end-point to a complex multiport switch. The IP uses the Gigabit Ethernet MAC (GEM) of the SoC to configure upto 16 internal/external MII (media-independent interface) /GMII (gigabit MII) / (reduced GMII) RGMII ports.
The main quality of the IP is the high configuration capability, not only of the number of ports, but also of the settings like IP, MAC address MAC table, MDIO (Management DataInput Output), frame storage queues, and more. In additionto this, it offers the widest and most up-to-date support to the TSN standards used in the automotive and industrial domains, including the following IEEE standards:
IEEE 802.1AS(rev)

for time synchronization.

IEEE 802.1Qav

, for the credit-based shaper applied to

the Stream Reservation traffic classes.

IEEE 802.1Qbv

for scheduled traffic.

IEEE 802.1Qci

for per-stream filtering and policing.

IEEE 802.1CB

for frame replication and elimination for

reliability.

IEEE 802.1Qbu and 802.3br

for frame preemption.
You can check the paper presenting the SPHERE Architecture in the following link.
---
Our related products
When it comes to SoCe products, we offer a wide range of products in order to implement a complete and a flexible TSN solution.
M

TSN

Switch IP Core. This IP core is a flexible HDL code ready to generate TSN end-point or bridge implementations.
M

TSN

Kit. This kit has been designed not only to test the

M

TSN Switch IP, but to support an advanced hands-on TSN as well. It is composed by two boards ready to run a TSN Network setup.
Additionally, SoCe technology is embedded into end products like the ones that Relyum offers.
---
About Us
System-on-Chip engineering (SoCe) is a worldwide leading supplier of time-aware Ethernet networking solutions. SoCe is pioneer in developing a portfolio of IP cores and rugged platforms that implement these technologies for critical systems.
For more information, please contact us at: info@soc-e.com
Every image in this post were taken from the Universitá di Catania's paper (https://ieeexplore.ieee.org/document/9432853).