SoC-e MTSN Switch IP release 18.10 supports Ethercat TSN Communication profile to allow seamless integration of Ethercat devices with TSN Networks. This IP can be implemented on reconfigurable devices (FPGAs/SoCs) to build TSN-capable equipment. SoCe has developed this feature in collaboration with the Ethercat Technology Group (ETG) and will show a set-up at the ETG Booth Hall 9-D18 in the Hannover Messe (23-27 April).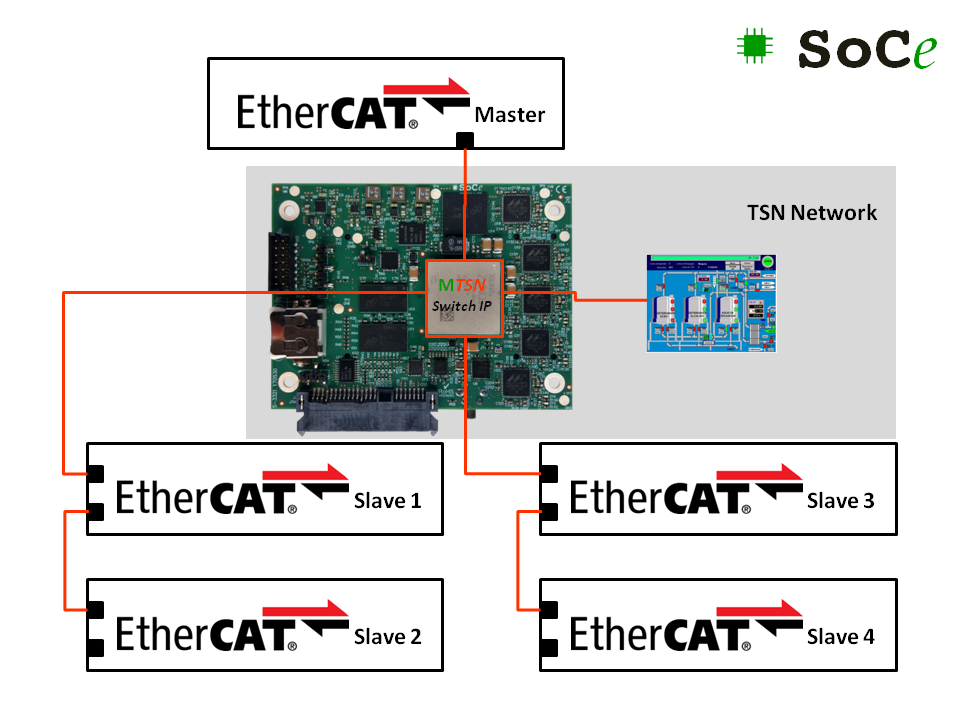 Time Sensitive Networking (TSN) is a standard, interoperable and deterministic Ethernet based solution. It is able to merge OT and IT worlds, thanks to the definition of three basic traffic types: Scheduled traffic, Best-effort Traffic, and Reserved Traffic. Scheduled Traffic type is appropriated for the hard real-time messages, Reserved Traffic for soft-real time ones and the Best-effort Traffic is the general Ethernet traffic that is not sensitive to any other Quality of Service metrics.
EtherCAT is the Industrial Ethernet technology which stands for high-performance, low-cost, easy to use with a flexible topology. It was introduced in 2003 and has been an international IEC standard and a SEMI standard since 2007. It is widely adopted in control processes that require a stringent real-time control, like in robotics.
SoC-e´s licensable TSN solution is called Multiport TSN Switch (MTSN) IP and it has been designed to be implemented on Programmable SoCs. As an example, targeted devices are the Xilinx Zynq-7000 all programmable SoC and Zynq Ultrascale+ MPSoC. These powerful platforms offer combined hardware and software processing capabilities and they ensure upgradeability of the solution thanks to their reconfigurable nature. This last advantage is a key point for TSN implementations, taking into account that the standard is evolving, the ability to upgrade the equipment will be compulsory.
MTSN Switch IP can be implemented optimally depending on the application, from a simple 2-ports end-point to a complex multiport switch. The designer can select, among other parameters, the number of ports and memory distribution for the switch implemented in the FPGA section. MTSN is fully integrated in the most relevant TSN testbed group coordinated by IIC.
About SoC-e
SoC-e is a worldwide leading supplier of Ethernet communication solutions based on FPGA technology. SoC-e is pioneer in developing a portfolio of IP cores that implement the leading-edge networking and synchronization technologies for critical systems.
For more information or to arrange a face-to-face meeting at Hannover, do not hesitate to contact us at info@soc-e.com
Additional Information:
Hannover Messe 2018 ETG Booth TSN/Ethercar with SoC-e SMARTmpsoc brick: