SoC-e presents SMARTmpsoc, the first Xilinx Ultrascale+ MPSoC SoM focused on advanced networking. It has been designed to be a perfect candidate to implement High-Availability and Time-aware Ethernet Switches. The device mounted in the board it is an Industrial grade XCZU3EG. This device embeds a quad-core ARM® Cortex-A53 platform running up to 1.5GHz combined with dual-core Cortex-R5 real-time processors, a with a Mali-400 MP2 graphics processing unit and a last generation reconfigurable areas (FPGA). The embedded computing capability of the SoM is completed with 2 GByte of DDR4, eMCC and QSPI memories.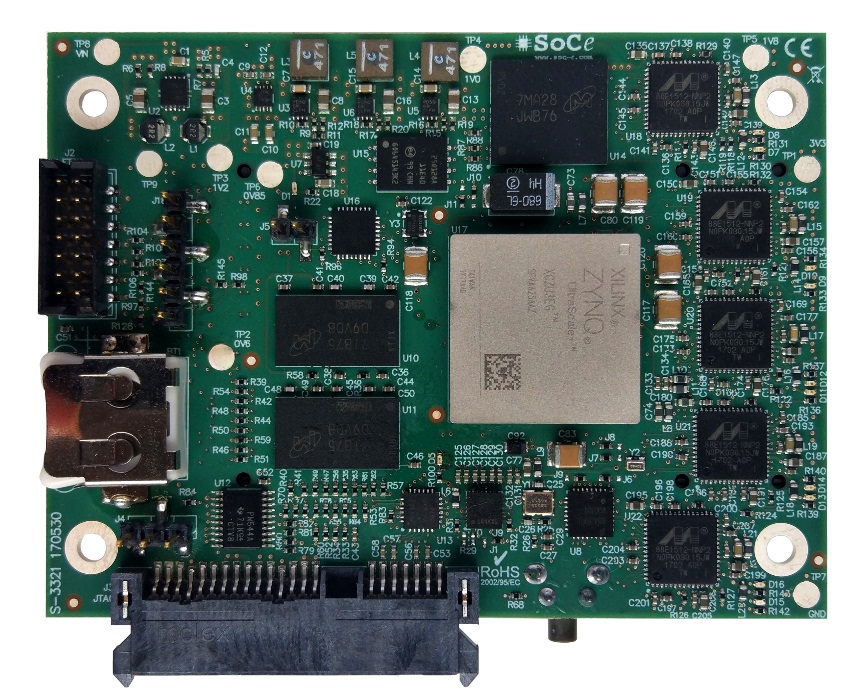 For the networking point of view, the SoM supports 5 multimode (fiber or copper) Tri-speed Ethernet Links and 3 additional SGMII interfaces directly connected to the PS section of the MPSoC device.
Other interesting features of this module are the Infineon TPM support for security purposes, SATA-3 connector and USB. Therefore, the scope of potential applications that can benefit from this SoM reducing the time-to-market and development time is really wide: Edge computing device, Cybersecurity oriented appliances, added-value data loggers, Defense and Aerospace applications, etc.
SoC-e provides IPs and Reference Designs that target this module for IEEE 1588, HSR/PRP, Gigabit Ethernet, TSN and Time Triggered HSR technologies. As an example, the following Block Diagram represents a Reference Design for this module based on SoC-e IPs for switching and for synchronization.
From the integration point of view, SMARTmpsoc SoM it is compatible with SMARTzynq Carrier, the same PCB currently used in SMARTzynq Brick. This interesting compatibility implies that currently users of SoC-e SMARTzynq module can upgrade seamlessly their equipment to Ultrascale+ MPSoC.
SoC-e offers an out-of-the-box solution to start working with SMARTmpsoc named SMARTmpsoc Brick. The functionalities accessible within the carrier currently available, SMARTzynq carrier are: 4 multimode (fiber or copper) Tri-speed Ethernet Links, 1 Tri-speed Ethernet Link connected to the PS section and Serial Console.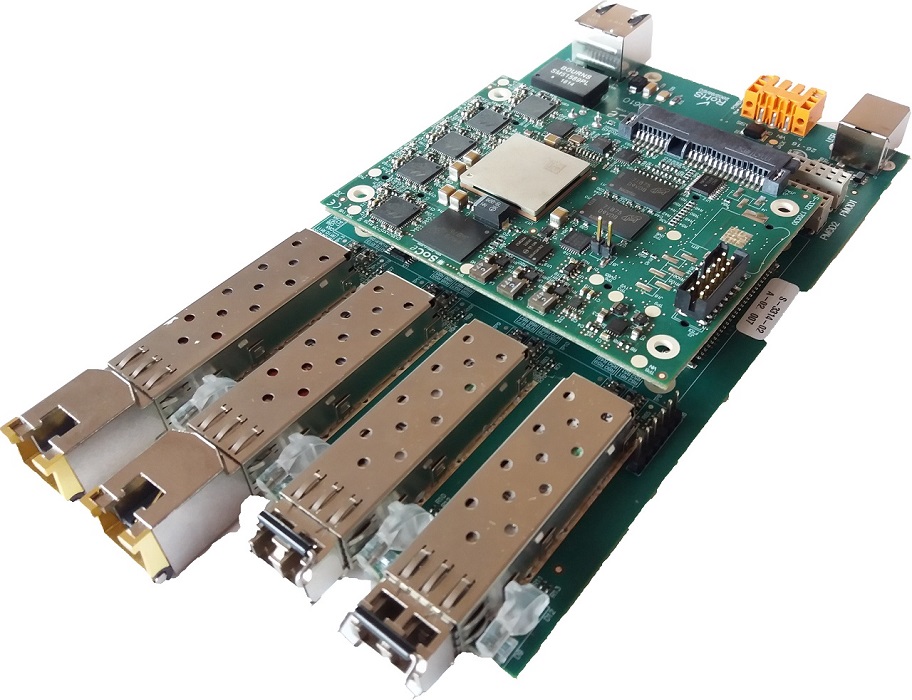 If you are interested on receiving more information or a quote about this product please fill the online form available at SMARTmpsoc Web page or email us at: info@soc-e.com